Goodbye, then Hello
June 2015. One of our favorite trees, the one pictured on our mugs, has been in decline for a few years. Given its location close to the inn and our strong winds, it had become a saftey concern. Last month we said goodbye when it was taken down by a fellow firefighter.
| | |
| --- | --- |
| | |
| In its place we now have a pretty young balsam fir welcoming guests to Ann's Point Inn. | |
---
We've installed a webcam
Spring 2014. See the current view from the inn on our Photos page and watch a whole day pass by in a minute.
---
Major renovation has begun
Winter 2013/14. One standout feature of the inn has been its indoor pool. Rather than upgrading the 1980s-era pool, we have decided it makes more sense to use the space for other activities and so have embarked on a complete redesign of the room. You can follow our progress through the photos posted below.
| | |
| --- | --- |
| May 12, Just a few details to go | |
| Feb 24, New walls and windows | |
| Dec 19, We have a floor | |
| Nov 24, Past the point of no return | |
---
Red Sky at API, Fall 2013
Oct 2013
| | |
| --- | --- |
| James was again in stellar form for the second RedSky@API Cooking Retreat. Plans are for two more retreats next year in June and October. For more information about out cooking retries, please contact the inn. | |
---
Summer 2013
Wild Flowers
For the past three years we have tried different ideas for creating a wildflower garden to help supply the cut flowers seen around the inn. Only one of those years was really successful, so this year we've upped the effort. At the beginning of June we created three raised beds seeded with two different wildflower mixes and a few specialty flowers. Periodically we'll post a photo below so that you can follow the garden's progress.
| | |
| --- | --- |
| June 1 | |
| June 17 | |
| July 17 | |
| August 1 | |
| August 22 | |
| September 2 | |
---
New Window for Blue Heron
June 2012
| | |
| --- | --- |
| | Originally, Blue Heron was built as a workshop, so although it is a large room there weren't enough windows to take in the great views. We have begun to rectify the window shortage by adding to the south wall a floor-to-ceiling window making the room considerably lighter. |
---
Kitchen Renovation
Spring 2012

Those of you who have visited the inn know that the kitchen is over-sized and at one time (circa 1965) even fashionable. This spring it is getting a makeover: a complete gutting and rebuild. The result is quite an upgrade, as these photos show.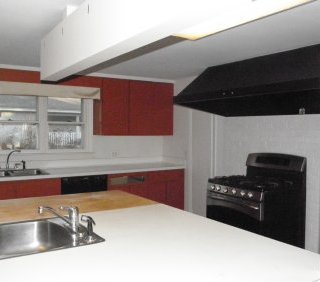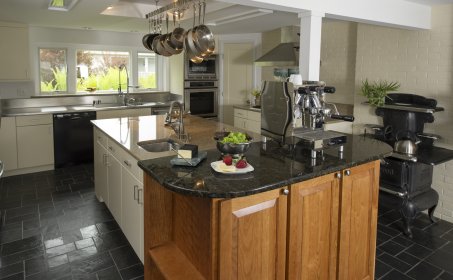 ---
Ann's Point Inn Recommended for Honeymoons
February 2012
---
Summer Harvest
July 2011. The vegetable gardens are in full swing. In the hoop house are three varieties of tomatoes and specialty cucumbers. In the cold frame we have loose leaf lettuce at various stages. And on the raised bed we're now picking snap peas.
---
New Deck, New Greenhouses
Spring 2011
Now that the snow is finally on its last flake, we're embarking on a couple of special projects in preparation for the upcoming season.

Mallards Haven is getting a deck. We're turning one window into a door and building a private deck with views of the harbor and mountains in the park. The photo at the right shows the deck under construction.

Although we try to grow many of the vegetables we use, the afternoon sea breeze and cool evenings sometimes thwarts our efforts. To improve the growing climate we'll be experimenting with two mini greenhouses: an 8 by 4 foot nursery for sprouting and growing lettuce, and a 16 by 6 foot hoop house for bringing veggies to harvest. The photo shows the nursury (between the two raised beds) with its lid held open by a solar-powered piston: The piston expands as the temperature rises, thus increasing the ventillation.