High-Density Lettuce
Summer 2019. If you've been a guest at the inn,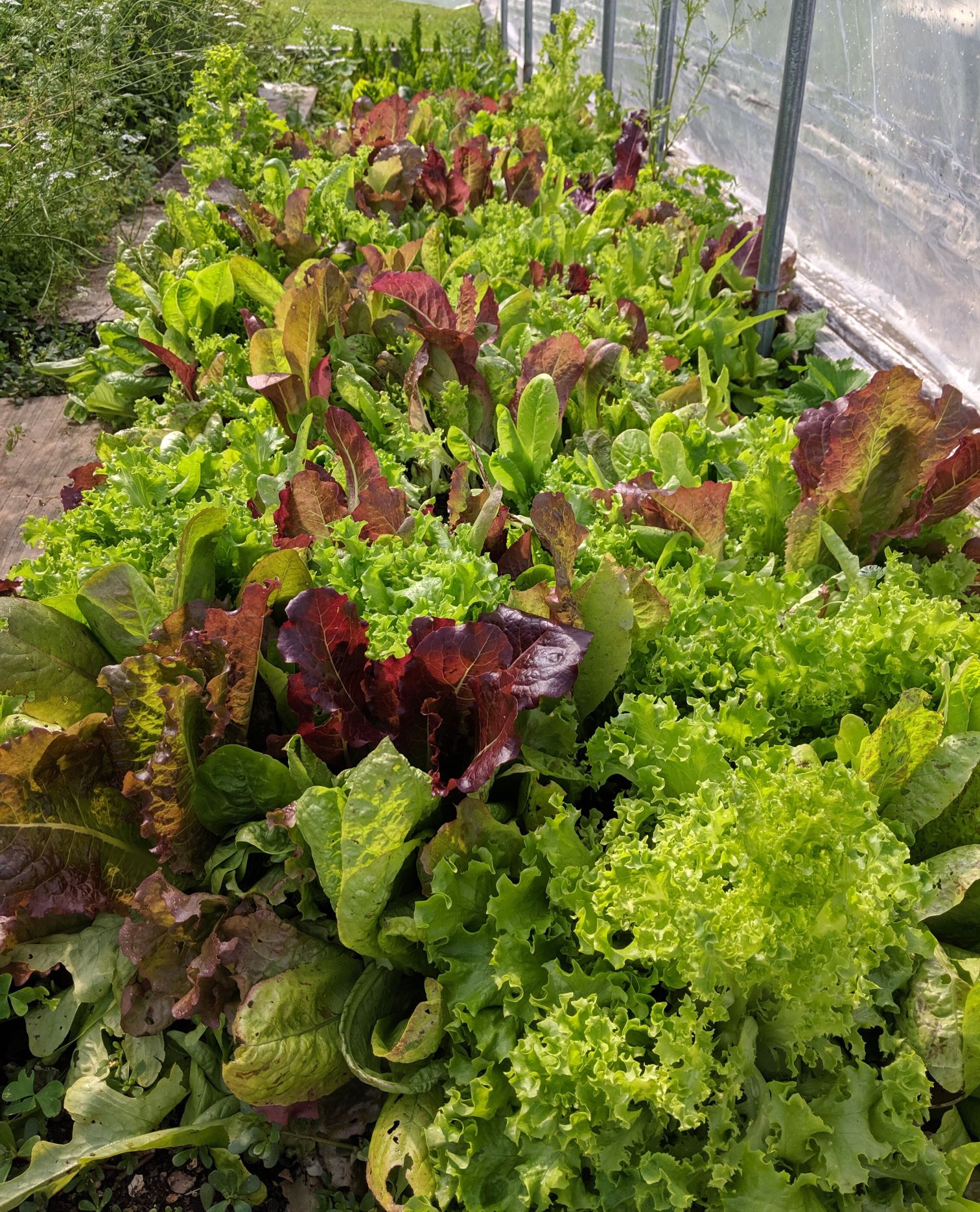 you know that breakfast often includes vegetables from our gardens. For the past couple of years we've been experimenting with high-density planting; sowing vegies just like you would sow grass.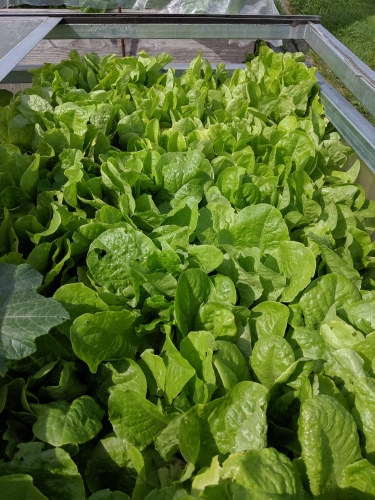 This year we've been tightly packing lettuce, as seen in these photos. The benefits are many more plants in the same space; No weeds (because there just isn't room); and very long harvests.

Here's the key. Because the plants are packed so tightly, most grow slowly. However a few grow faster, becoming taller and thicker. We harvest those by carefully uprooting them creating a small clearing. The neighboring plants then spread out to take advantage of the clearing, becoming taller and thicker. The cycle can continue for months.
Tremont Goes Solar
Spring 2019.
Our village of Bass Harbor is in the town of Tremont. Tremont is part of what's known as the "Quietside of Acadia" and often lives in the shadow of Bar Harbor. But when it comes to solar energy, Tremont is in the spotlight as the town has installed a large solar array to power the town offices, school, and community center. Here's a nice video showing the array being constructed.
Flower Garden Redux
Spring/Summer 2017. In 2016 we got serious about cut flowers and had a professionally planned flower garden. It filled our summer with color (see photos below) and attracted sightseers, including a member of the Bar Harbor Garden Club. This year we were invited to show off our garden on the Club's annual Garden Tour.
| | |
| --- | --- |
| The garden was planted in late May | |
| In late June things are beginning to take off. Time for more Weeding Therapy sessions (see Summer 2016 below). | |
| July 9th, two weeks until show day. The the empty spaces are beginning to fill. | |
| July 22nd, it's showtime and everything is looking pretty nice. We had over 400 visitors tour the garden today. | |
---
Giving the Inn a Facelift
May 2017. One of the joys of innkeeping is the wide variety of tasks involved. Because of the tiny window on the coast of Maine between the end of winter and the start of tourist season. painters are in high demand during spring. Alan decided the best solution was to paint the inn himself, assisted by a 60 foot lift to access the second floor.

Over the course of a month, besides being an invaluable painting assistant, the lift allowed washing of the inn's solar panels, washing of second-floor windows, pruning of a couple of trees, cleaning the roof of lichen, and offering an unusual perspective of the inn.
---
Even More Flowers
Summer 2016. We've always had lots of flowers around the inn, in past years supplied by a wildflower garden planted along our driveway. This year we're taking it up a notch. Instead of wildflowers, we had a local landscaper design and prepare two large beds with a variety of flowers just aching to be cut.

Being more orderly than the wildflower garden, the cut-flower garden is also aching to be weeded. Below, a recent guest partakes in a little Weeding Therapy (our program accredited by the Thomas Sawyer Institute).
---
Making a Grand Entrance
Spring 2016
Our main entrance has always been a simple door leading into the inn's dining area. There was no good place to hang coats nor wet umbrellas, nor to get out of the weather should it be raining. We're fixing that by adding a mostly glass entryway.

The first stage shows the frame constructed over a new foundation in front of the old entrance.

The frame has been filled in with the doors and a couple of flourishes. It's getting close.
Construction has completed, painting is done, time to clean up. Just in the nick of as our first guests arrive in two days.